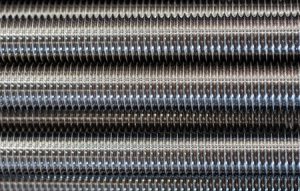 Stainless steel threaded rods have become popular fasteners for many businesses, especially those in the food industry who value their corrosion resistance. Depending on the grade, stainless options can help with variables such as water, chemicals and outdoor elements.
Advantageously to businesses in the food industry, stainless steel threaded rods  do not rust, providing a more visually pleasing appearance.There are many FDA approved options for food contact, ensuring you'll be able to find the right one for your operation.
Stainless steel threaded rods can be paired up with nuts, bolts, and more to fasten things together and they are capable of standing up to extremely high levels of pressure and tension when they're used properly. They can be manufactured to for sturdiness or for versatility, depending on your specific needs.
While stainless steel threaded rods have proven to be very useful over time, it's important for you to invest in high-quality rods to get the best results. A reputable seller of stainless steel threaded rods will  provide you with the right size threads and the proper grades based on your needs and specifications.
Do you want to order stainless steel threaded rods for your next project? Dependable ACME Threaded Products has been providing business owners with Acme screws, Acme nuts, Ace rods, and more for over 55 years now. Call us at 800-893-3792 to order your stainless steel threaded rods.