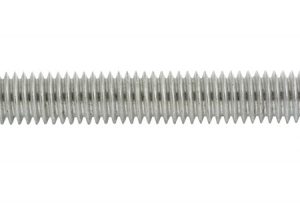 Dependable Acme sells Acme threaded products such as threaded rods. Ever wonder what the difference is between threaded rods and threaded bolts? While both are similarly designed with a narrow fastener with threading, bolts only have threading at one end while rods have threading at both ends. Oh, and one more major difference: the end of the bolt without threading has a head which is used to drive that head into an object.
What's longer? Threaded rods are generally longer than threaded bolts. You can find threaded rods measuring up to 20 ft. long. Bolts, on the other hand, are typically just a couple inches long.
If you're shopping for threaded rods, we manufacture them in various materials, from low carbon to heat treated alloys. 
Threaded Rod Applications
Where are threaded rods used? You'll typically find them used in construction (on bridges, for instance) or manufacturing applications. For example, in combustion gas engines, threaded rods are used to secure cylinder heads to engine blocks. Thanks to threading, these rods withstand tension and vibrations well.
We Have Over 60 Years of Experience!
If you want to buy Acme threaded rods, Dependable Acme has them, from ⅜" to 2.5" diameter. With over 60 years of threading experience, our company knows threaded products! Our plant is proudly in the USA, in Westbury, New York, and we provide great customer service. Order from us and we'll do same day UPS shipping if possible. We pay special attention to custom orders. Basically, our name is Dependable because that's what we want to be to customers: Dependable! When you need threaded rods, Dependable Acme should be your first call choice.
Do you have any questions or concerns about threaded products, including threaded rods? Please call us at 800-893-3792 or email us at depacme@aol.com. You can also use our online contact form here.