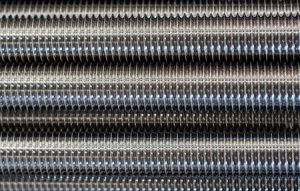 First things first– what is a threaded rod? Similar to a screw, a rod, aka a stud, is a rod of varying length that's threaded in a helical structure. The threading extends around and along the rod. It's there to cause rotational movements when in use. Combining linear and rotational movement, threaded rods create strong resistance to pressure. Thus, threaded rods are designed to handle high levels of pressure and tension.
What are threaded rods used for? Typically, they are a common fix for support systems. The threading allows for other fixings, like bolts and nuts, to easily screw or fasten to it. Think of a threaded rod like a pin, used to fasten or connect two things together– no wonder they're used to stabilize structures. Threaded rods can be used with/embedded into concrete, metal or wood. They're versatile. Agricultural, construction, manufacturing, marine, and plumbing are just some of the industries that utilize threaded rods in their work.
Sometimes threaded rods need to be cut or bent. Threaded rod can be cut using special tools.
Dependable ACME "knows thread cutting inside and out…" Indeed, Dependable ACME is a company that knows all about threaded rods, and you can browse the website for info on thread sizes, thread gages, and thread dimensions, among other things. If you have any questions or want to place an order, please call Dependable ACME at 800-893-3792. You can also use the online contact page, here.