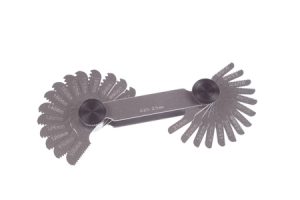 When you're ordering ACME screws, you need to know more than just what diameter they should be. You also need to know what the thread pitch of the screws should be. If you don't obtain screws with the correct pitch, they won't do you much good. As such, use the right thread gage to determine the pitch of your screws so that you know what you're working with. Find out why it's important to use the right thread gage below.
Measures the thread pitch of screws accurately for you
When you put a thread gage to use, you need to know that it's going to deliver accurate results for you. If it doesn't, you might end up with screws that have the wrong thread pitch. The right thread gage will produce results you can count on and be very easy to use each and every time you pull it out.
Proves to be durable for you over the years
If a thread gage sustains the least little bit of wear and tear, it might not work the way it's supposed to. It could provide you with results that are off just slightly, which won't do you much good. You should be careful with a thread gage to avoid damaging it. Nevertheless, in the event that you do drop it or just use it a lot, it should be designed to stand up to anything and keep on working properly.
Potentially saves you both time and money
Using the wrong thread gage could leave you with more than just screws with the wrong thread pitch. It could also cause you to waste a lot of time and money. By using the right thread gage, you'll ensure you take accurate measurements and find out how many threads per inch your screws need to have.
At Dependable ACME Threaded Products, we provide our customers with a convenient thread gage guide to use. To find out more about why it's so important to utilize the right thread gage, call us at 800-893-3792. We can also speak with you about the ACME screws that we have to offer.